About me
My name is Antoine and I am born in 1980. I am from Belgium; I live in South-West of Brussels. I work as a software developer
in the centre of Brussels, near the Central Station
.
My first language is French; as you see I also speak English, and I have some basic Dutch knowledge.
At the beginning of the IMCDb project I was one of the most active members, so I continued the site when its creator could not follow with all the pictures I was sending and changes that I was requesting
Now I put quite less new vehicles on the site; on the other hand, I still do all the technical stuff.
I was very interested in working on this site since I was watching a lot of movies, even if they are not especially good movies. Nowadays I'm rather watching series.
I also have some interest in cars in general.
I collect
model cars
, mostly at 1:43 scale.
I like Lego
so I made a site similar to IMCDb, but for
bricks seen in movies
.
My website:
www.antp.be
Car info
I learned to drive (in end 1998 / beginning 1999) on a 1997
Peugeot 205
"Generation" (model launched in 1983, this series was one of the last ones) that belonged to my parents. I continued to drive that one from time to time.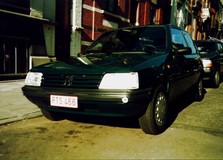 Then in 2001, when I started to work, I bought a 2002
Peugeot 106
"Sketch" (S2).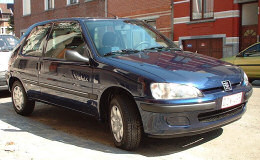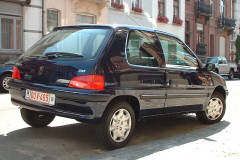 I resold the Peugeot 106 to my parents when the Peugeot 205 was destroyed in an accident. So I still drive that 106 from time to time.
After that, I didn't own a car anymore for a long time. Most of the time I was driving a 2003
Peugeot 206
SW "Enfant Terrible" owned by the company where I was working.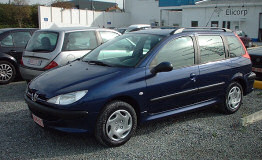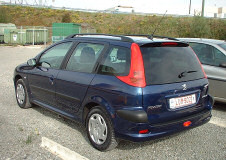 These three cars have the same 1.4ℓ 75hp gasoline engine.
The 205 & 106 had an advantage: they had a low weight, so even with this little engine they were fun to drive. The 206 was a little heavy for that engine, but the car was more "stable" when driving on highways so I felt better in that one. And despite its low performance, I still found it quite fun to drive (as anyway there are speed limits on roads...)
With 4-meter length it is still not too hard to park it in the city.
In end of 2013, the 206 was becoming old and had several technical problems. Rather than continuing to repair it, it was decided to replace it.
So now I drive a 2014
Peugeot 208
"Active". It has a 1.2ℓ 82 hp engine, and the increased power combined with the reduced weight gives it a better acceleration than the 206 (similar to the 106).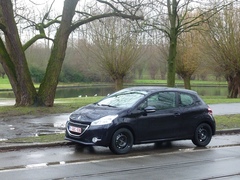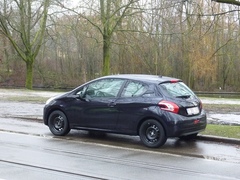 Mid-2015, the company where I was working went bankrupt. I had to opportunity to buy back the car, which I'll then use only from time to time for leisure, as now I go to work with the metro rather than by car.
In September 2022 I sold the Peugeot 208 because my girlfriend and I bought together a new
Toyota Yaris Hybrid [XP210]
to replace both of our cars: as we were never using them at the same time, it was a waste of money to have two cars. Also, these two cars will not be allowed in Brussels from 2030, so we sold them while they had some value.
Cars that I drove for a long time: Peugeot 106, 205, 206 SW, 208 and Toyota Yaris Hybrid [XP210] in the upcoming weeks/months/years.
For a week: Opel Corsa [D] (rental), Toyota Yaris [XP10] (replacement car), Fiat Grande Punto (rental)
And more briefly: Audi A5, Chevrolet Volt, CitroŽn C3 Picasso, CitroŽn Jumper, Honda Civic (1982), Hyundai i20 [3rd gen], Lexus RX450h (2012+), Peugeot 306, 307, 406, 406 Break, 806, Renault Kadjar, Renault Kangoo ZE, Saab 9-3 [2nd gen], smart Fortwo, SsangYong Musso, Subaru WRX STI (2015+), Toyota iQ, Volvo C30, C70 and V50... (I probably forgot some, but I know that I tested at least all the "-06" Peugeot
).
I especially Like SAABs, and lots of cars from 70s until early 90s.
I do not have any old car, but I'd like to if I had knowledge to maintain it and a place to park it.
Among others, my favorite cars are CitroŽn DS, Renault 15/17, Renault 16, VW Scirocco Mk2, CitroŽn XM, Lotus Esprit Turbo, DeLorean, SAAB 900 (and in general all SAABs as said above), Audi Ur-Quattro, Maserati Biturbo, Subaru SVX, '91-'92 Chevrolet Caprice, '61-'63 Ford Thunderbird, ...
You can find
here
my "Top 100 Cars" list (maybe not really up-to-date).